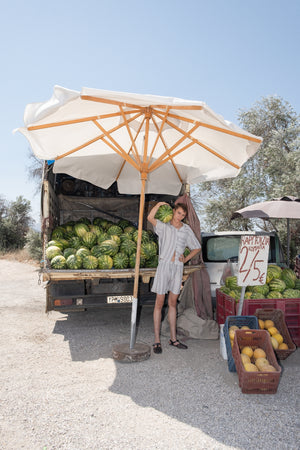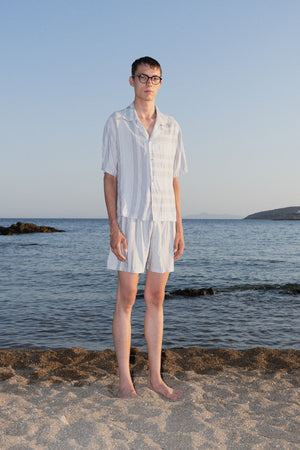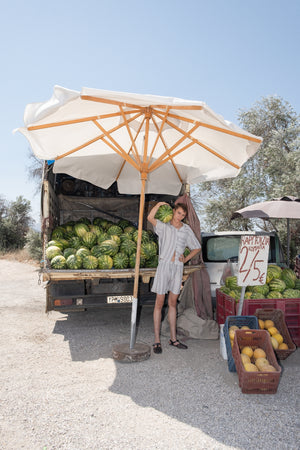 Quartz Veins: shirt/shorts
Quartz Veins is a unisex set, a short sleeve square shirt with notched collar and an airy matching shorts.
You can get both or have them separately.
They are made of Italian dead-stock fabric 100% viscose.
Shirt: While producing the shirt, we placed the fabric horizontally and vertically which means that its left and right side have their stripes on a different direction. It is finished with small sized silver buttons.
Shorts: The garment has its stripes vertically, it has a loose fit and an elastic waist. On the back, there is a hidden pocket finished with the same button as the shirt's.
Limited garments available.
Made in our production, Athens, Greece.

SHIRT'S DIMENSIONS
Medium
Length (from shoulder to bottom) 62,5cm
Armpit to armpit 58cm
Shoulder to shoulder 48cm
Sleeve length 26cm
Large

Length (from shoulder to bottom) 65cm
Armpit to armpit 61cm
Shoulder to shoulder 50cm
Sleeve length 27cm
SHORTS' DIMENSIONS
Medium
Waist 35cm
One side hip width 35cm
Length 44cm
Large
Waist 36cm
One side hip width 36cm
Length 45cm
IN CASE YOU HAVE FURTHER INQUIRIES PLEASE WRITE US
ON INSTAGRAM FOR A PROMPT RESPONSE, THANK YOU.