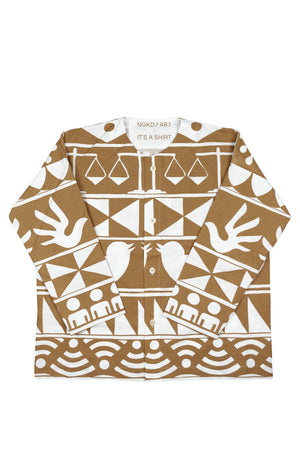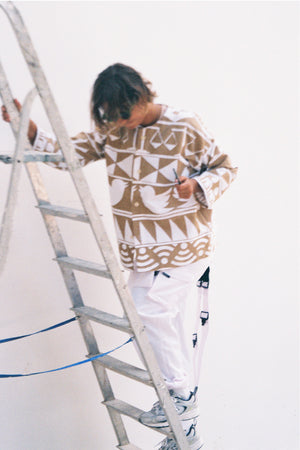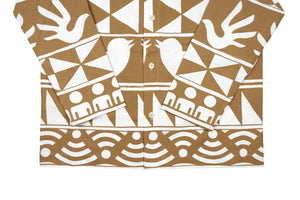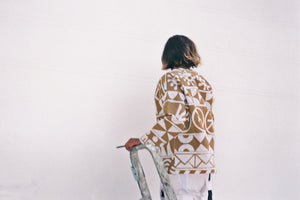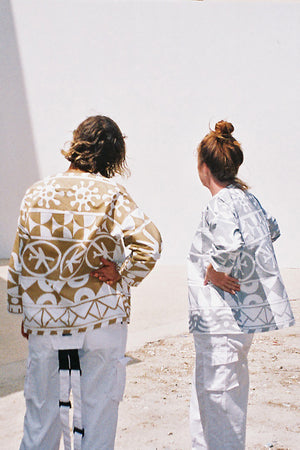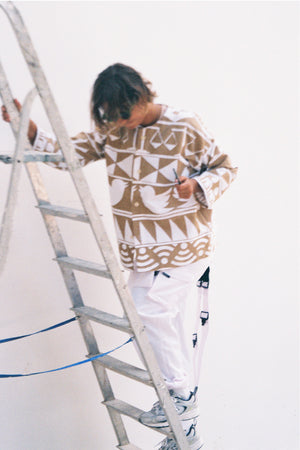 PYRGI CHIOS / SUN GOLD
PYRGI CHIOS / SUN GOLD
TOTAL PIECES IN SUN GOLD: 15
During the installation of the mural which will be a publicly visible event,
Khan-Dossos and her team will be wearing specially designed shirts creating a direct link between the mural and the act of labour creating it. This painting performance begins on the 6th of September and will be visible in the Santaroza Square of central Athens until the opening weekend of the Bienniale on the 24th of September. The garment has been designed exclusively for us by the artist, is an integral part of the wider project of 'Ta Nea Xysta' and is a limited edition wearable artwork.  Available in the alchemically symbolic tones of moon silver and sun gold - the colours of the shirts relate directly to the theme of this year's Athens Biennial 'Eclipse'. The designs have been locally hand screen-printed from the painted designs created by Khan-Dossos for these performance costumes.
-One-size unisex shirt
-Fabric 100% cotton produced in South Greece.
-The front , the sleeves and the back have a different design
which has been screen printed by hand in a small studio in Piraeus.
-Each garment was cut by hand to make the edges aligned and then
we proceeded with sewing and finishing with same colour buttons.
-Measurements
(from inner shoulder to sleeve's end)