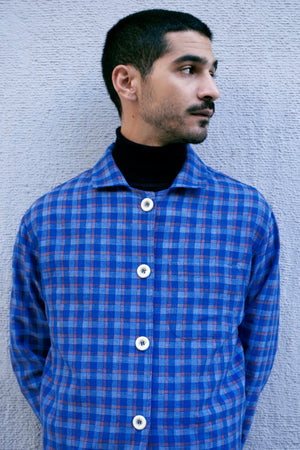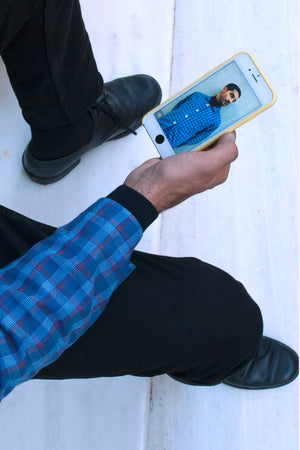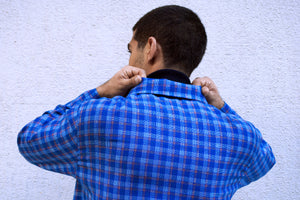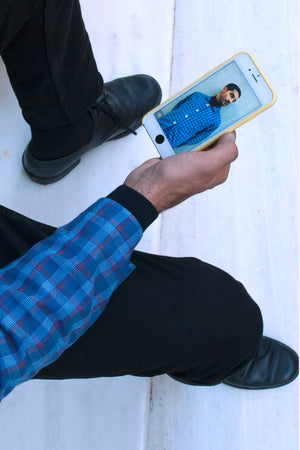 LAST SEEN: 1/11/16
1/11/16 is a unisex, one size shirt. It has a squared-edges collar and is finished with bone large sized buttons, made from check cotton in blue shades produced in Greece.
Only one piece available.
Produced in our house in Athens under fair trade conditions.
LAST SEEN is neither a metaphor nor an epithet.
It literally is the last time somebody saw you physically or 'caught' you active in the cyber space. Whether you realize it or not we are exposed with a timestamp next to our name, additionally anyone can check our digital activity during night or day. Taking this into consideration, it is worrying to what extent this mark is crucial, yet sometimes is even more important than our real presence.
In this context we wonder if artisanal creations can be truly appreciated in the digital world or is their value tarnished due to the fast pace and the lack of senses that exists within the virtual space. We attempt to express these thoughts through the textures the selected fabrics for this collection have. LAST SEEN embodies dead stock pure wool, velvet, raw cotton in basic unisex shirt shapes so you can dress yourself in the physical space to be seen and not to be forgotten.