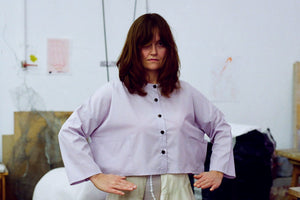 IT'S A SHIRT X USEE: LILAC
Our cropped lilac collab shirt with USEE STUDIO concentrates on the significance that a garment can be interesting no matter from which angle you look at it. 100% italian fine poplin , finished with brown bone buttons and two spacey pockets on each side. Made in Athens.
It is time to present you our first collaboration.How come did this occur though? Well, it started out some years ago in south Sweden when we met in the Textiles School, IT'S A SHIRT and one of the two members of USEE STUDIO. Having been flatmates, but also mates regarding the way we look at the relationship between forms-textiles-fine arts, we ended up producing together a shirt which is not exactly shirt nor a blouse. It definitely is a collaboration from the North to the South, a correlation on how we look at a piece of clothing. It was a great pleasure hosting USEE STUDIO in Athens and create together at Egaleo area.