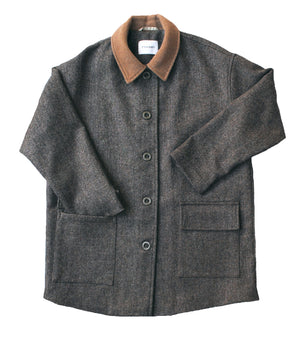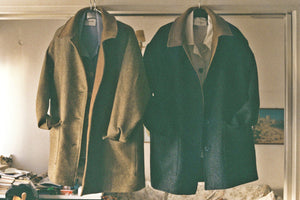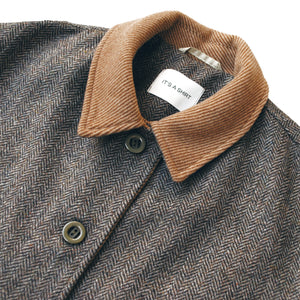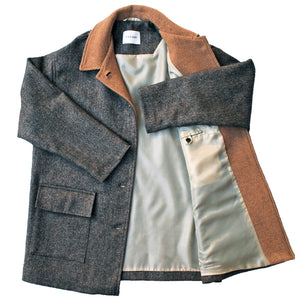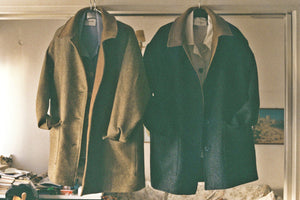 gatherings 'NEIGHBORHOODS'
NEIGHBORHOODS is our first attempt to create a coat using some of our favourite garments in order to make it real. The outer part is a heavyweight Scottish KYNOCH, a blend of wool and cashmere, in dark chocolate colour, a rare find that needs care and attention. The inner part is a shiny viscose lining in pistachio shade. There are two generous big size pockets on the front and and an inner pocket sewed to its lining, too. Its details (including the collar) are made from Italian soft velour striped fabric in earthy colour palette finished with unusual dyed buttons. Feel free to ask more details, in case you need, before placing your order. Only dry clean. Only one piece available from NEIGHBORHOODS.Made with love and excitement. 
Dimensions
61 cm / 24inches armpit to armpit , 87 cm / 34inches length
GATHERINGS
Inferior/superior groups, sex, race, roles
and an endless list of categories follows.
Are we talking about human human-centred societies?
We gather for welcomes and we gather for goodbyes.
We come and go alone but meanwhile we accompany
each other throughout our whole lives.
We create, fight, enjoy, feel pain, absence or bliss.
When we genuinely care we need to practically share.
GATHERINGS is a series of garments for the upper body parts
consisting of a symbiotic relationship of extra fine fabrics with
raw and soft textures collected one by one shaped in unisex forms
ready to be worn under any circumstances.
Something to own in order to share.