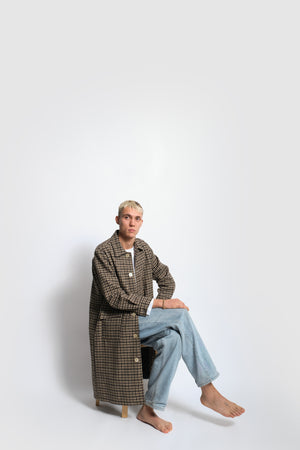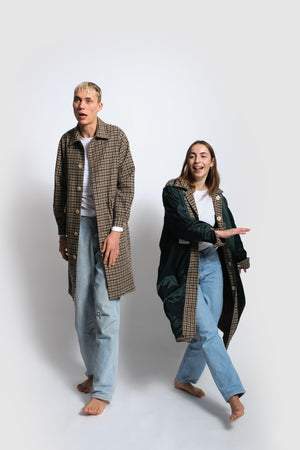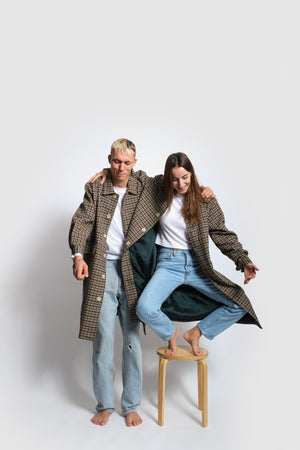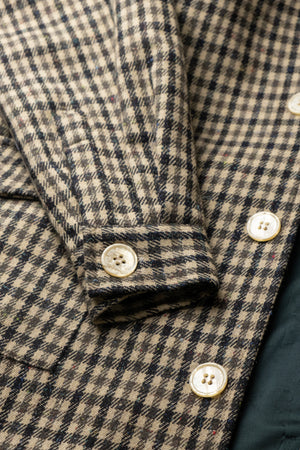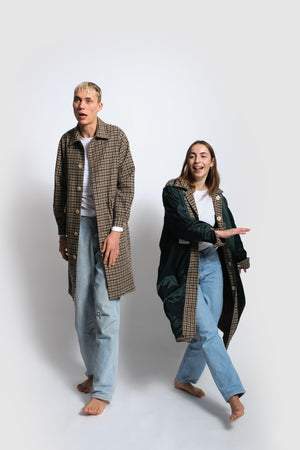 ENGLISH BREAKFAST
English Breakfast belongs to our IT'S A COAT series which was born two years ago. Just before 2022 ends, we present you our new additions to the series.
What you see here is a unisex long coat tailored in a premium checked wool from England, lined with a dark green silk/viscose fabric. It is characterised by a wide spread collar as well as by its sleeves that resemble the ones our classic shirt has. It owns also two flapped pockets and another one placed on its left inner side.
Our materials are sourced in Athens. No transportation gas emissions. Each and every shirt is curated and produced in our family production space located a few minutes away from the centre of Athens, Greece.
DETAILS 
fully lined outerwear
relaxed and unisex fit
flapped and inner pockets
wide collar, tailored sleeves
100% wool from England
limited edition-made and curated in Athens
We strongly recommend you to check our IT'S A COAT size measurements
The male model is 1.95cm and wears English Breakfast coat in Large size.
The female model is 1.70cm and wears English Breakfast coat in Medium size.
Medium
Length (from shoulder to bottom) 106cm
Armpit to armpit 60cm
Shoulder to shoulder 44cm
Sleeve length 75cm (from side neck to cuff)
Large
Length (from shoulder to bottom) 108cm
Armpit to armpit 62cm
Shoulder to shoulder 47cm
Sleeve length 81cm (from side neck to cuff)