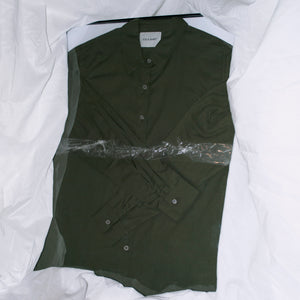 AUSTRALIA: FOREST GREEN
Australia is on fire.
We are so far away to help but so moved to pretend that we can't do it from distance. We made two limited shirts made of light greek cotton finished with tortoise bone buttons. All the money from your purchase will be donated to: AUSTRALIA'S RED CROSS HUMANITARIAN AID and/or WIRES AUSTRALIAN WILDLIFE RESCUE ORGANISATION. You name it.
As soon as you place your order we will proceed the transfer and send you a receipt of the donation.Only two garments available in forest green as if an action painting on the grey Australian sky.
Medium size: Shoulder to shoulder 44cm / Chest 57cm / Length 70cm / Sleeve 63